BioConnection offers clinical fill and finish for your products. Our capabilities include liquid fill or lyophilization intended for vials, prefilled syringes or blowfill seals. Fill and finish is the core of our company!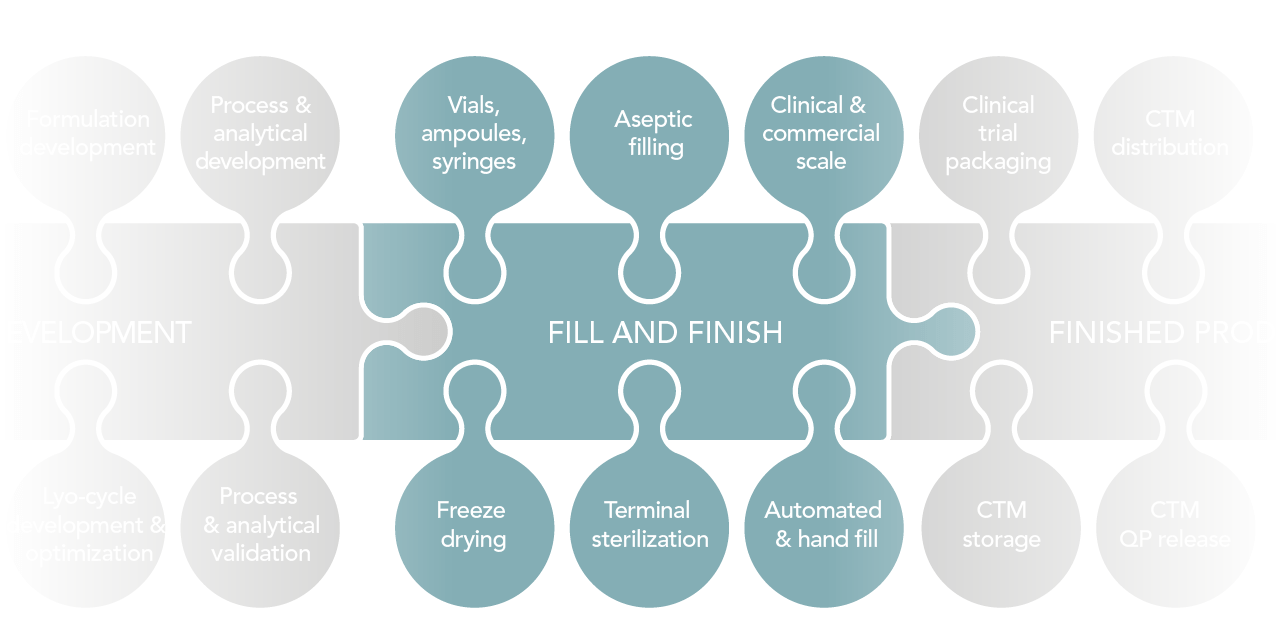 Clinical scale fill and finish
BioConnection fulfills the needs of innovative (bio)pharmaceutical companies by offering flexible state of the art development and GMP compliant manufacturing services for sterile Drug Products, for both clinical trial and clinical scale manufacturing.
The cornerstone for our offering is the clinical scale manufacturing plant in Oss. This plant complies with EMA and FDA regulations. Here, we can provide you with the automated fill of clinical-grade cGMP products in vials and syringes, both liquid and freeze-dried. Thanks to our network and years of experience, we can also offer the handfill of vials, syringes, and fill and finish in almost any other container format, leading to a very flexible approach. And, due to the efforts of BioConnection, we provide a seamless transfer from the handfill unit to the automated unit.
Time to scale up?
If your product is successful and demands larger-scale production, we can facilitate your commercial launch on our large-scale filling line. This benefits you to scale up to commercial production in time for the market, all within the same building and while eliminating transfer costs. 
Please see the summary of our services below to view our production capacities per vial, and syringe. We are looking forward to working with you for clinical scale fill and finish.
Formulation development
Process and analytical development & validation
Lyo-cycle development and/or optimization
Transfer and scale-up to clinic
Transfer and scale-up to market
Freeze drying
Shelf areas ranging from 3 m² up to 10 m²
Clinical trial material services
Labeling
Clinical trial packaging
QP release
Storage
Fill and Finish
Batch sizes: from 1 unit up to 161,000 units per batch
Clinical and commercial scale
Automated fill and hand fill
Aseptic filling
Vials: from 2 RDIN up to 50 RDIN
Syringes: from 0.5 ml up to 10 ml
Other primary packs: via handfill
Terminal sterilization