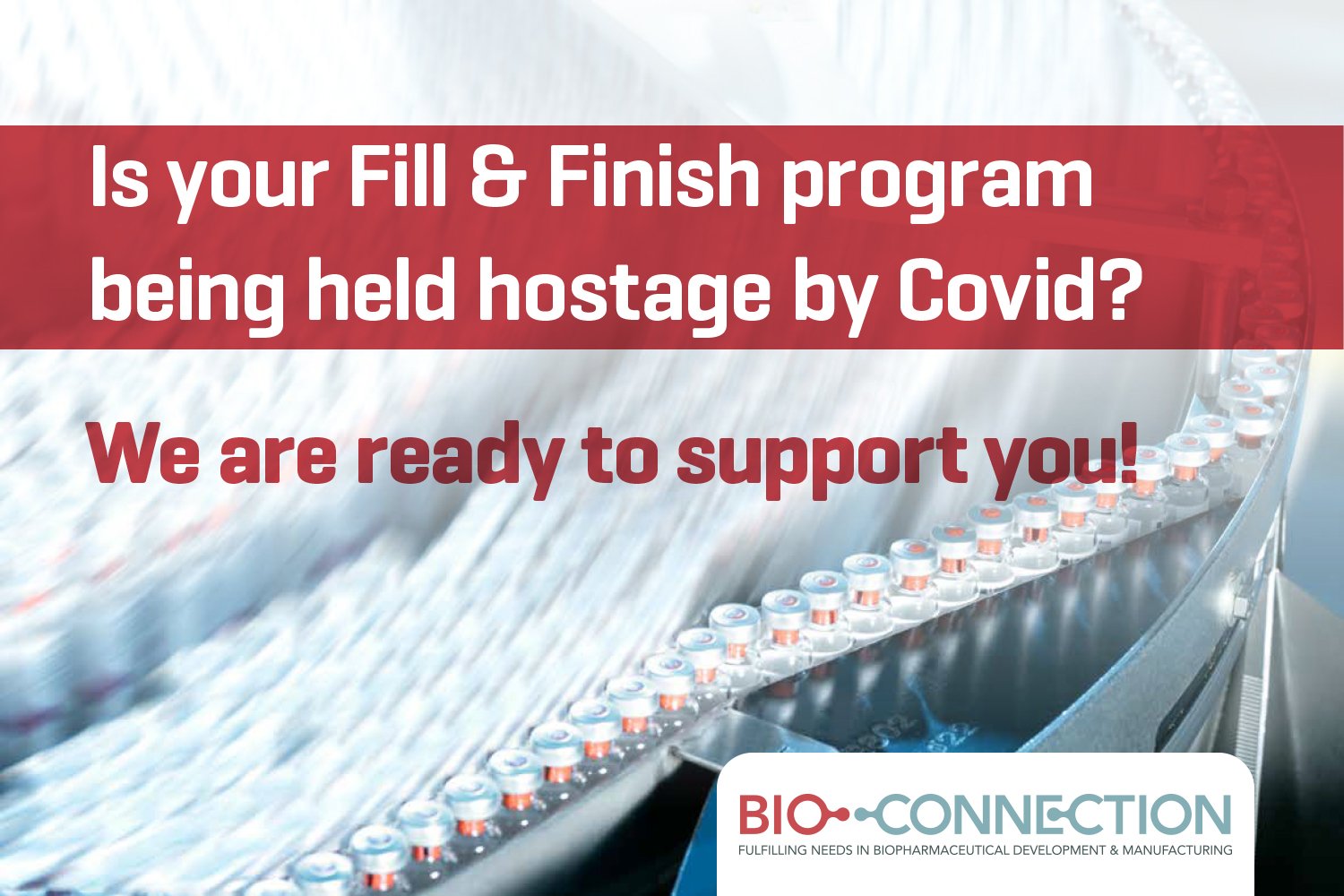 BioConnection ensures your clinical and commercial supply line for steriles, even in pandemic times
Have you experienced the worldwide GMP manufacturing capacity for sterile injectables being very limited due to the high demand for Covid-19 treatments and vaccines? Do you worry that this will jeopardize the timelines of your Drug Product program?
As of April this year we have increased our GMP Fill & Finish manufacturing capacity, enabling the aseptic production of up to 40 million vials per year for liquid products and up to 4 million vials per year for freeze dried products. We operate in an EMA and US-FDA certified facility and have four different production lines covering batch sizes ranging from 0.1L up till 1,000L/batch. Whether it is a liquid or a lyophilized Drug Product, at clinical or at larger commercial scale we can support you despite the challenging Covid-19 pandemic times.
Moreover we offer a vast array of additional services beyond the Drug Product manufacture such as (but not limited to): QP release to clinic or market, release analytics, labeling & packaging, stability studies, formulation and lyo-cycle development to name a few, which will help to bring your product fast(er) to the clinic or to the market.
We fully understand that timing is crucial and we are used to acting fast and focused enabling lead times from the first client contact up to production of a first GMP Drug Product batch to be as short as four months. Don't wait any longer – contact us to discuss your needs and discover how can we be of service.
We are ready to support your Fill & Finish programs!
Our four different production lines
Automated vial line
(class A, aseptic)
Up to 50L + 3m² freeze dryer
for standard vial formats
Automated vial line
(class A, aseptic)
Up to 1,000L + 10m² freeze dryer
for standard vial formats
Manual fill unit
(class A, aseptic)
Around 1,000 units/ batch
for standard vial formats + bags + bottles, etc.
Syringe filling line
(class A, aseptic)
Up to 50L
5,000 syringes/ hour
Contact Marco Jaspers for clinical supply queries and Sjaak Stevense or Dennis Link for commercial supply queries. Let's discuss today how can we be at your service tomorrow.
We look forward supporting you with our Fill & Finish services.